Instant Downloads @ A to Z's Store:
Lessons & Activities
Bats Teaching Ideas @ Little Giraffes
Classroom photos and activities for bat activities. littlegiraffes.com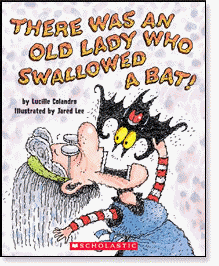 Book Activities for There Was An Old Lady Who Swallowed a Bat
Vocabulary, Before/After Reading Ideas, classroom photos, printables, and teaching ideas. teachingheart.net
Math Activity Theme: Bats
Bat-themed printables, activities, and lessons for math.  Glyphs, graphing, games, problem solving, etc. mathwire.com
Bat Writer's Workshop
Writing activities based on the book, Stellaluna. primaryteachers.org
Bat Songs and Poems primaryteachers.org
Bat Art Projects
Bat puppet, flapping bats, bulletin board, and more.  primaryteachers.org
Now Hear This! How do bats navigate at night?
This is a lesson plan description of an experiment to demonstrate how bats navigate in the darkness. primaryteachers.org
Bats Coloring Pages and Printables
Printable bat pages for young children. first-school.ws
Printable Bat Book Activities
Graph for favorite book about bats and printable shape books for writing. kidzone.ws

     Bat Crafts
A variety of crafts made with egg cartons, handprints, toilet paper rolls, and more. dltk-holidays.com
Bats
This 2 week unit uses a combination of science discovery centers, small group activities, and whole group discussions. Check out the cool bat photos on the front page!  Grade Level(s): 1-2 www.ed.uiuc.edu
Bats Theme Unit
Printable pages useful for a bat theme unit. abcteach.com
Bats
Tons of bat facts, resources, projects, a quiz, and links to other relevant bat sites. www.cccoe.k12.ca.us
Books & Resources
There Was an Old Lady Who Swallowed a Bat by Lucille Colandro
Stellaluna by Janell Cannon
Stellaluna BIG BOOK by Janell Cannon
Bats by Gail Gibbons
Amazing Bats Contains interesting facts & full-color photographs.
Beautiful Bats by Linda Glaser